James Peck is English and considers himself a "physical theater" artist with credentials born of a decade of theatrical training in London. His entertainment background includes television, film, and stage work. He's worked as a punk rocker, jazz performer, and founder of two ensemble acting companies. He moved to the U.S. 20 years ago, honing his theatrical skills for 10 years at Dell'Arte International in California where he pursued an interest in combining mime, comedic theater, clown arts, and stage masks.
"The clown is a culmination of the concept of mask," says Peck. "Clowns are the smallest masks in the world. As a clown you have to be everything — and be funny."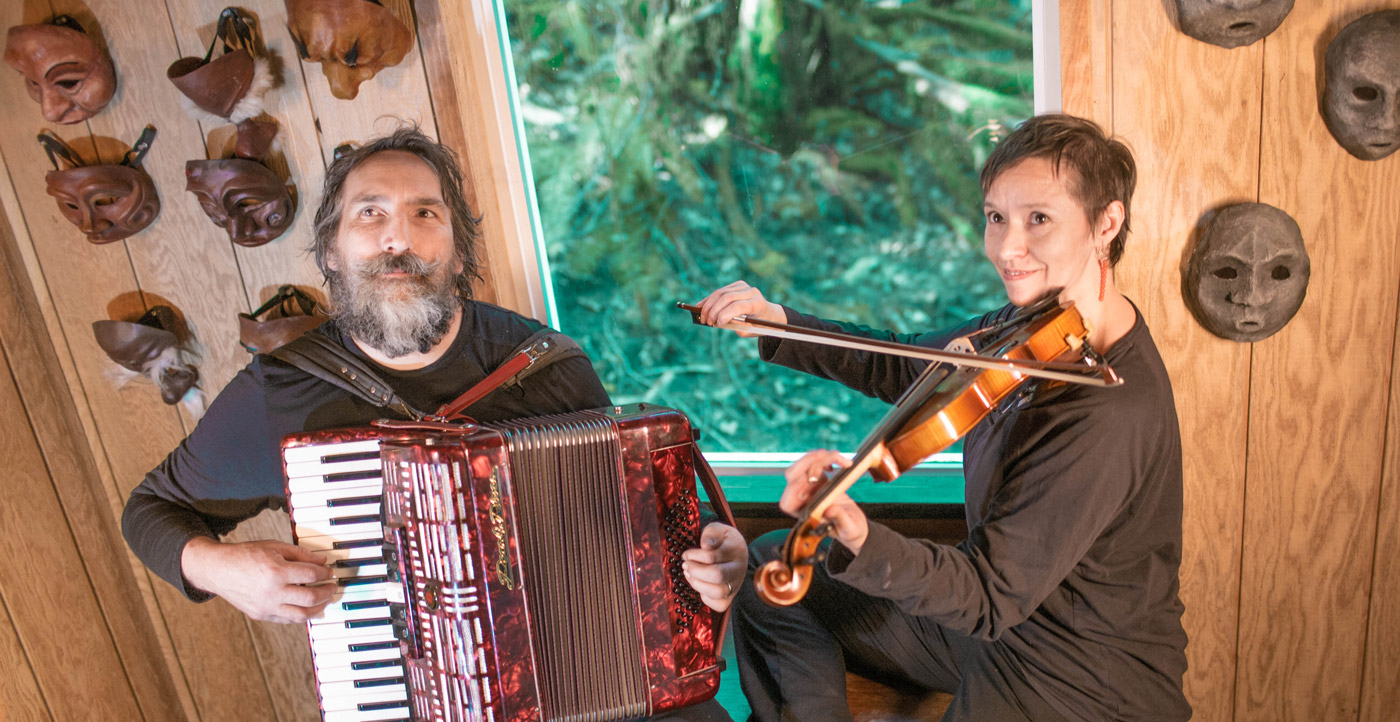 Sarah Peters Gonzalez is partner to Peck. Their paths crossed at Dell'Arte International. They moved to Oregon a year ago and reside in rural Lane County near Cheshire. Gonzalez exudes passionate dedication to matters of artistic expression. And reverence for nature. Like Peck, she's musical. Active in instructional learning. An advocate for improvisational acting. Together with Peck, she's planning local theater projects and arts workshops for upcoming months.
"Our art is about an interplay with the natural world," says Gonzalez. "A fundamental tenet of our work is that it needs to be in close relationship to the natural environment. We want our work to bring people closer to the natural landscape. We moved here because we want that fundamental connection."
Monkeydo Global Theater is a startup enterprise and one of Peck and Gonzalez's personal vehicles for combining clown comedy and mask use. Another vehicle is OpenArts, a group of collaborative artists providing cultural events, consultation, and instructional forums promoting community growth.
At its core, the comedic aspects of Peck and Gonzalez's work is impressively sophisticated both academically and regarding its empathic connections to audiences. Their clowning is neither stand-up patter nor suggestive of red-nose circus or party clowns. "A good clown," says Peck, "has to understand dramatic method, tragedy, where you are in space . . . the list is long. We like messing around with existential and explorative aspects of clowning. We use clowns in the broadest sense." openartgroup.org, monkeydoglobal.com