What's a can opener for? Opening cans, right? Think again. If you're Ken Standhardt, that functional can opener becomes an artist's brush. In the real world, it opens up a can of tomato juice. In his world, it's a tool to form myriad distinct, hypnotic patterns on various pieces of pottery. His mugs, urns, bowls, and tumblers shimmer with crisp, vibrant, almost buzzing colors and textures. New colors that he experiments with now include vibrant turquoise, marigold, and red.
As a youngster growing up on a traditional Pennsylvania Dutch farm, Standhardt was exposed to fine craftmanship as a part of everyday life, he recalls. And that left an indelible mark.
It was the fractal geometry in plant life—specifically sunflowers, with their repeating patterns—that attracted him, Standhart notes, as well as Anasazi pottery, created by the mysterious culture that moved to Arizona and New Mexico and ruled the desert from about 100 BC to 1400 AD.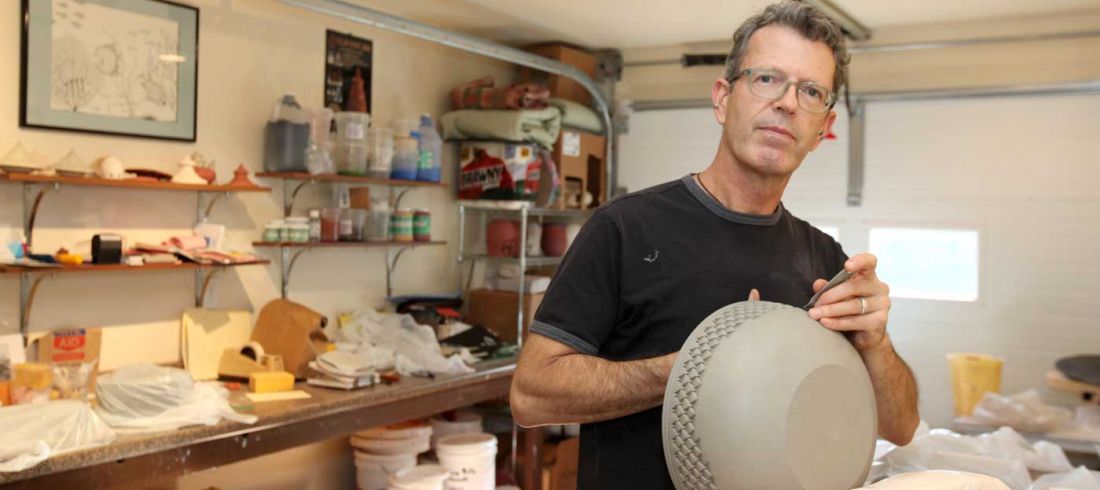 Standhardt, as a modern artist, uses the intriguing Anasazi pottery patterns as inspiration and an artistic base, but he personalizes them, totally making the form his own.
Using any one of a dozen can openers (he does have his favorite), he carefully places patterns on the clay. "In a single vessel there can be hundreds of impressions," he says. "I do each imprint by hand and eye."
Standhardt's pieces are art. But this Pennsylvania farm kid, who is grounded in the practical applications of things, proudly states that the majority of his output is functional, too. "People actually use the mugs, bowls, and storage vessels I create," he says. "One person told me she gets a special thrill eating ice cream [out of] one of the bowls I made for her. That's totally my intention. I grew up where everything had a function, then beauty followed. I like to marry both."
Customers will find surprises in his clay creations, like rattles under lids and a unique, intricate mandala pattern on the underside of each pottery piece.
Standhardt came to Eugene in 2000, drawn by its strong potters' community, and he runs his art enterprise solely from his South Hills home studio. After nearly 30 years as a professional artist, he's given himself the luxury of no longer doing many out-of-town shows.
"This is really the way to do it," he said recently at an event in his backyard. He's among a handful of local artists reviving the idea of backyard studio tours and sales. "It was an idea popular in the 1970s and 1980s," he says, adding that he's teaming up in this endeavor with local glass and ceramics artist Patty Lamont. "So far we have about 10 artists involved."
The venture is called Gardens of Artful Delight. Look to spring and beyond for the next round of public activities featuring local artists in their backyards.
After majoring in fine arts and minoring in archeology, Standhardt became a traditional folk potter. He says his "aha!" moment came when, early on, he opened a bottle of beer in the family barn and recognized what the tip of the triangular-shaped can opener might be able to do. "I was working with textures and had tried different tools," he says. "I suddenly realized using a can opener allowed me to determine the size of indentations, and I could expand or contract the pattern according to any shape."
In his hands, the tool has helped him create a vast array of distinctive pottery. And these days, simple is good.
"I used to enjoy creating big show pieces," he says, smiling. "But now I love making more basic, simple bowls and tumblers. I like that people use them."
If you come across Standhardt's pottery, you might be compelled to touch it—and that's OK. He delights in offering you a wonderful tactile experience from his beautifully made, handcrafted pottery.
541/514-4646
(open by appointment year-round)