Experience local art, engage with the community, run through Oregon's beauty, and much more at these events happening in Lane County this week.
Please attend in-person events responsibly, wear a mask, and follow all proper safety guidelines. Events are subject to change.
Submit your own event for consideration!
McKenzie River Trust at Alesong Brewing
Alesong Brewing will be hosting a happy hour with representatives from McKenzie River Trust engaging in conversation about their organization and mission. McKenzie River Trust is dedicated to protect special lands, restoring natural systems and encouraging a connection to nature. Enjoy delicious drinks and connect with your community learning about a local organization working to keep nature as beautiful as it is. 
Thursday | 5:00 pm | Alesong Brewing, 80848 Territorial Hwy. | alesongbrewing.com 
The Emerald City Jazz Kings
The Shedd Institute will be hosting the Emerald City Jazz Kings lead by Shirley Andress commemorating the extraordinary singer & actress Doris Day. The Jazz Kings produce four original concerts per year based on music from the 1920's through 50's. A beautiful night of music is in store for any jazz or classical music fan at the Shedd Institute. 
September 9-12 | 7:30 pm | The Shedd Institute, 868 High St. | Prices Vary | theshedd.org
Nights at the Raptor Center
The Cascades Raptor Center is putting on a great night with the opportunity to learn about spectacular animals and the experience of staff working with these animals. Get a tour of the center, meet birds on the glove and chat with the executive director and staff. With food and beverages provided, this will be a great night filled with wonder and is a can't miss for any nature or bird lover. 
Friday | 6:30 | Cascades Raptor Center, 32275 Fox Hollow Rd. | $50 Admission | cascadesraptorcenter.org 
Willamalane's Wacky Golf Tournament 
Camp Putt Adventure Golf Park is hosting a fun night for all ages to bring their wackiest putt putt hits at this golf tournament. Rules and regulations have been thrown out the window and the crazier moves the better. Bring your family or friends and have fun letting loose and competing for prizes. 
September 14 | All Day | Camp Putt Adventure Golf Park, 4006 Franklin Blvd. | willamalane.org
Rods and Rhodies Car Show
Head to Florence to check out over 125 awe-inspiring classic hot rods from 1976 and earlier. Enjoy live music and great food while admiring beautiful cars in a beautiful area on the Oregon coast. Any classic car owner is welcome to come and show off their beloved car at the event. 
September 10-11 | Old Town Florence, Bay St. | $45 Admission Fee | rodsnrhodies.org 
Lane Arts Fiesta Cultural 
Celebrate Hispanic heritage at the Lane Arts Fiesta Cultural event this Friday. Connect with people from the community and enjoy folkloric ballet, mariachi, an el grito ceremony, an open dance floor, delicious food and much more. 
Friday | 5:00 pm | Springfield City Hall, 225 5th St | Free Admission | lanearts.org
The Mayor's Teen Art Show
Make the trip to the Maude Kerns Art Center and check out the talented young artists of Lane County. The exhibit will feature wonderful art by teenagers from schools all across Eugene. Experience their unique perspective and sheer creativity through a variety of mediums and pieces. 
September 13 – October 1 | Maude Kerns Art Center | 1910 E 15th Ave. | mkartcenter.org
Veneta Harvest Festival 
The Harvest festival is a fun filled fundraiser for the programs of the Fern Ridge Service Center. Programs include the Love Project food pantry, Senior Meals and Dining, Senior Connections, social and health services. The Harvest Festival includes live music, food and artisan booths, a pie baking contest, chili cook off, kid zone, and a pancake breakfast.
Saturday | 10:00 am | Downtown Veneta, 2nd & Broadway | Free Admission | venetaoregon.gov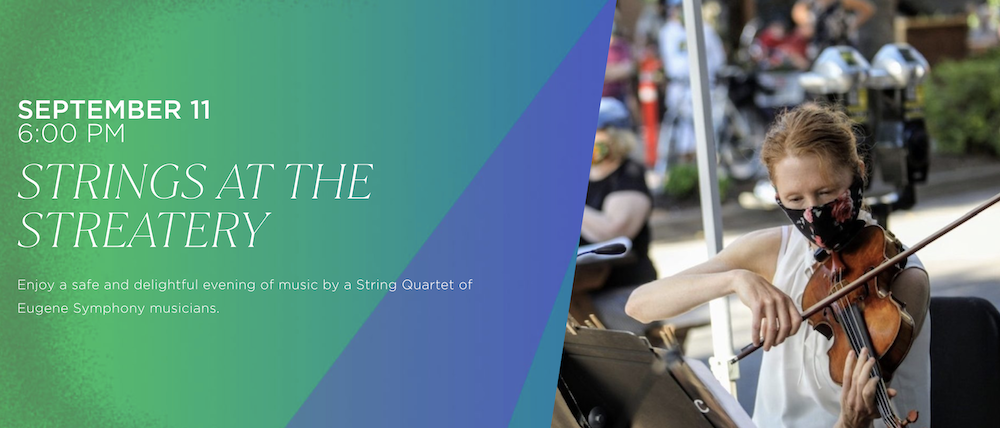 Strings at the Streatery 
Listen to beautiful live music courtesy of the Eugene Symphony while enjoying amazing food on the Broadway Streatery. The quartet will be located between Olive and Willamette and will be amplified. Get your family and friends together and head out to Broadway for this unique dining experience. 
Saturday | 6:00 pm | Broadway Streatery, East Broadway | Free Admission | eugenesymphony.org
McKenzie River Trail Run
Take in Lane County's beautiful scenery and nature on this year's McKenzie River Trail Run. The race offers runners a technically challenging course with only moderate elevation gains and the inspiration of some of Oregon's most breathtaking nature sights.
Saturday | 7:00 am | Carmen Reservoir | $95 Admission | mrtr.org 
Art on the Amazon
The city of Eugene Recreation and Cultural Services is calling all young artists to partake in the Art on the Amazon event to showcase 2D and 3D pieces created by folks ages 8-18. This is a great opportunity to showcase art in a judge free environment. The Eugene Springfield Youth Orchestra will also be playing a free concert at the event. 
Saturday | 11:00 am | Amazon Community Center, 2700 Hilyard St. | Free Admission | artontheamazon.com
Big Freedia at WOW Hall
Known as the Queen of Bounce music, Big Freedia is New Orleans-based hip-hop artist and worldwide ambassador of bounce music. It is certain to be a groovy night at WOW Hall so grab tickets while they're still available.
Saturday | 8:00 pm | WOW Hall, 291 W 8th Ave. | $25 Admission | wowhall.org
Eugene Opera Fall Gala
Enjoy a German inspired meal at the beautiful Northern Lights Christmas Tree Farm while listening to the dynamic Eugene Opera. Featuring the music of Schubert, Schumann, Madonna, Van Halen and much more. Have a drink, eat great food, and relax with the Eugene Opera this Tuesday.
September 14 | 5:30 pm | Northern Lights Christmas Tree Farm, 36777 Wheeler Rd, Pleasant Hill, OR 97455 | $125 Admission | eugeneopera.org
ONGOING EVENTS
Markets
Weekend Market
Every weekend, take in the new 5th Street Market Expansion or explore your old favorites while perusing pop up shops and artisans. Grab some food, enjoy displays, and learn about the new businesses in the Market Alley.
Saturday and Sunday | 11 am | 5th Street Public Market, 296 E 5th Ave. | Free admission | 5stmarket.com
Lane County Farmers Market
The Lane County Farmers Market is now open in their new location on Saturdays and their old location on Tuesdays! Join them to shop local and fresh! Check their "In Season" page to see what will be available on your shopping list (or expect to be surprised and inspired).
Saturday, 9 am, 5th Ave. between High and Oak Sts. | Tuesday, 10 am , 8th Ave. and Oak St. | Free admission | lanecountyfarmersmarket.org
Saturday Market
The Eugene Saturday Market is now open in their usual spot in the Park Blocks. Peruse local artisans and craftspeople, pick up lunch from the international food court, and see live music. It's a Eugene institution!
Saturday | 10 am | 8th Ave. and Oak St. | Free admission | eugenesaturdaymarket.org
Veneta Downtown Farmers Market
The Veneta Downtown Farmers Market is now open for a season celebrating local farmers and craftspeople. Check out their website for a full list of farmers, vendors, and artisans.
Saturday | 10 am | 3rd Ave. and Broadway, Veneta | Free admission | venetadowntownfarmersmarket.com
South Valley Farmers Market
The South Valley Farmers Market in Cottage Grove is the perfect place to visit for local produce, baked goods, artisan crafted works, and more! You can also order in advance for pick up through their website.
Saturday | 11 am | 7th and Main St., Cottage Grove | Free admission | southvalleyfarmersmarket.square.site
Whiteaker Community Market
The Whiteaker Community Market is now open! Explore local art and produce at Scobert Park in the Whit. Check out their list of vendors and COVID-19 safety guidelines on their website.
Sunday | 11 am | Scobert Park, 4th Ave. and Blair St. | Free admission | whiteakercommunitymarket.com
Florence Farmers Market
The Florence Farmers Market opens for the season starting on Tuesday! Join them for fresh produce, pickles, hand pies, seafood, and more in Old Town Florence.
Tuesday | 3 pm | Bay and Kingwood Streets, Florence | Free admission | florencefarmersmarket.org
Spencer Creek Growers' Market
The Spencer Creek Growers' Market is celebrating their 12th year with a large collection of backyard and hobby farmers looking to sell their wares. Bring your shopping list and you'll be sure to cross fruits, vegetables, pasture-raised meats, eggs, plants, and more off of it!
Saturday | 10 am | Spencer Creek Grange, 86013 Lorane Hwy. | Free admission | spencercreekmarkets.org
Art Exhibits and Performances
BLM Grant Program exhibit
The Jordan Schnitzer Museum of Art has opened two exhibitions: The first is the world premiere of 56 Black Men, a photograph collection by Cephas Williams, who photographed black men, all wearing hoodies, but with their real occupation captioned underneath them, challenging racial stereotypes. The second is the Black Lives Matter Artist Grant Program Exhibition, featuring works by artists selected by a jury to each receive grants to continue their artwork in connection to the Black Lives Matter movement. Stay tuned for more information about this exhibition!
Art by Marco Elliott
56 Black Men | On display until October 10 | During regular museum hours | Museum admission prices | jsma.uoregon.edu
Black Lives Matter Artist Grant Program Exhibition | On display until November 21 | During regular museum hours | Museum admission prices | https://jsma.uoregon.edu
Other ongoing events
Sheild Bistro Happy Hour
Every Wednesday through Saturday, Sheild Bistro gives you the opportunity to enjoy $2 off tapas and $5 off house wine and taps at their Happy Hour! Stop by for a pre-dinner treat!
Wednesdays through Saturdays | 3 pm | Sheild Bistro, 298 Blair Blvd. | Free admission | sheildcatering.com
Broadway Streatery
Now through September 27, eat outdoors and in the road with the return of the Broadway Streatery program! East Broadway between Willamette and Olive Streets will be closed to traffic to give local restaurants expanded seating to accommodate for social distancing and welcome more customers. Come support local restauranteurs!
Now through September 27 | Ongoing | Broadway between Willamette and Olive Sts. | Food available for purchase | downtowneugene.com
Pfeiffer Burgers and Brews
Pfeiffer Winery is celebrating this week's Burgers and Blues night with live music by Riffle. Sip on a glass of wine, or buy a whole bottle and indulge in delicious burgers.
Fridays | 6 pm | Pfeiffer Winery, 25040 Jaeg Rd., Junction City | $5 admission | pfeifferwinery.com
Family Fun in the Sun
Fridays and Saturdays through the whole summer, the Museum of Natural and Cultural History is hosting "Family Fun in the Sun," a series of family-friendly activities perfect for getting your child active and interested in history. August will have you walking with dinosaurs and the fossils they left behind.
Fridays and Saturdays | 11 am | Museum of Natural and Cultural History, 1680 E 15th Ave. | Included with regular admission | mnch.uoregon.edu
Sunday Funday Bluegrass Concert series
Every Sunday, join Pfeiffer Winery for their summer Sunday Funday Bluegrass Concert series! Sip some stunning wine while swaying along to local bluegrass and folk bands.
Sundays | 1 pm | Pfeiffer Winery, 25040 Jaeg Rd., Junction City | $5 | pfeifferwinery.com
Silvan Ridge Friday Night Concert Series
As part of their summer Friday Night Concert series, Silvan Ridge is combining good music, good food, and good wine to support a different cause each week. This week, enjoy food by Kico's BBQ and live music from the Greg Nestler Band in support of the Eugene Civic Alliance.
Friday | 6:30 pm | Silvan Ridge Winery, 27012 Briggs Hill Rd. | $5 admission | silvanridge.com
Trivia Night at Tap and Growler
Gather your friends and head over to Tap and Growler every Wednesday night to put your trivia skills to the test. Enjoy good food and drink while trying to outsmart the rest to claim the trivia champion title.
Wednesdays | 7 pm | Tap and Growler, 207 E 5th Ave. | tapandgrowler.com
Sunset Yoga
End every Wednesday through the summer with Sunset Yoga at Dorris Ranch. Take deep breaths and feel the flow while enjoying the natural sights. Register in advance.
Wednesdays | 7:30 pm | Dorris Ranch, 205 Dorris St., Springfield | $5-$6, Register in advance | willamalane.org