Tour the art galleries of Eugene, enjoy the music of the 1950s', experience the old time circus and much more at these events happening in Lane County this week.
Please attend in-person events responsibly, wear a mask, and follow all proper safety guidelines. Events are subject to change.
Submit your own event for consideration!
Zone 4 All – Art Show
New Zone Gallery will be holding an art show through October calling all artists from the Eugene area. The non-juried show is an opportunity to sell and have your work shown in the gallery. Take the opportunity to present your work or simply come check out the beautiful art from people around the county.
October 1 – October 29 | New Zone Gallery, 110 E 11th Ave. | $10 entry fee for contributors | newzonegallery.com
Be-Bop-A-Lula at the Shedd Institute 
Be-Bop-A-Lula is returning to the Shedd after popular demand. Siri Vik and Bill Hulings will be taking the stage performing a selection of some of the most iconic songs of the 1950's. The songs of the 1950s' changed music forever and laid the groundwork for modern day rock and pop music. Come take a trip to the past and enjoy a beautiful performance.
Friday | 7:30 pm | Shedd Institute, 868 High St | $25 | theshedd.org
First Friday ArtWalk
Gather with fellow art lovers of the community and take a tour through over ten of Eugene's art galleries and venues. Choose from 5 guided ArtWalk stops or explore on your own. This is a great chance to check out magnificent art in the area and see what's new within the galleries. 
Friday | 5:30 pm | Free | lanearts.org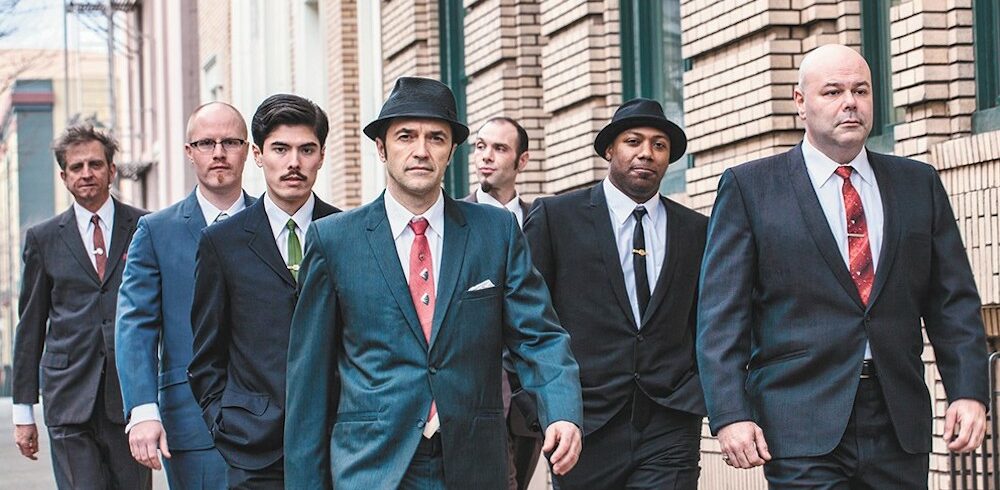 Cherry Poppin' Daddies at Sessions Music Hall
The Cherry Poppin' Daddies will be bringing their high energy ska inspired swing music to Sessions Music Hall this Saturday. Formed in Eugene in 1989, they have become something of local legends and are known to put on great shows. Come grab a drink and enjoy a night filled with fun swing music. 
Saturday | 8:00 pm | Sessions Music Hall, 44 E 7th Ave. | $25 | sessionsmusichall.com
The Quebe Sisters 
The Quebe sisters have been touring over 15 years and front a progressive swing band. The sisters all play fiddle providing beautiful harmonies over the backing band. Originally based in Texas, the sisters have toured all across the world and are brining their jazz influenced western swing to the Hult Center this Saturday.
Saturday | 8:00 pm | Hult Center, 1 Eugene Center | $30 | hultcenter.org 
Ballet Fantastique: Cirque de la Lune
Set in America 1933, this production tells the story of a woman joining the circus and all the craziness that comes along. With a compelling story and stunning dance and acrobatic numbers, this show is a can't miss for any fan of fun filled big productions. 
Saturday & Sunday | Times Vary | Hult Center, 1 Eugene Center | Prices Vary | hultcenter.org
Ideas on Tap: Medieval Magic 
Now served virtually on Zoom, the Museum of Natural and Cultural History will be hosting a lecture and discussion about Medieval Magic. Learn about fascinating concepts and ideas from this interesting part of history from University of Oregon folklorist Martha Bayless on October 6th.
October 6 | 6:00 pm | Virtual | Free Admission | mnch.uoregon.edu 
Shakey Graves at the McDonald Theatre
Texas based musician, Shakey Graves, serves a show of spectral blues, folk, and rock inspired music. Hitting the music scene in 2011 with their debut, Roll the Bones, Shakey Graves has gone on to become a top act headlining festivals all across the country. It is sure to be a bluesy night at the McDonald Theater.  
October 6 | 8:00 pm | McDonald Theatre, 1010 Willamette St. | $30 | mcdonaldtheatre.com
ONGOING EVENTS
Markets
Weekend Market
Every weekend, take in the new 5th Street Market Expansion or explore your old favorites while perusing pop up shops and artisans. Grab some food, enjoy displays, and learn about the new businesses in the Market Alley.
Saturday and Sunday | 11 am | 5th Street Public Market, 296 E 5th Ave. | Free admission | 5stmarket.com
Lane County Farmers Market
The Lane County Farmers Market is now open in their new location on Saturdays and their old location on Tuesdays! Join them to shop local and fresh! Check their "In Season" page to see what will be available on your shopping list (or expect to be surprised and inspired).
Saturday, 9 am, 5th Ave. between High and Oak Sts. | Tuesday, 10 am , 8th Ave. and Oak St. | Free admission | lanecountyfarmersmarket.org
Saturday Market
The Eugene Saturday Market is now open in their usual spot in the Park Blocks. Peruse local artisans and craftspeople, pick up lunch from the international food court, and see live music. It's a Eugene institution!
Saturday | 10 am | 8th Ave. and Oak St. | Free admission | eugenesaturdaymarket.org
Veneta Downtown Farmers Market
The Veneta Downtown Farmers Market is now open for a season celebrating local farmers and craftspeople. Check out their website for a full list of farmers, vendors, and artisans.
Saturday | 10 am | 3rd Ave. and Broadway, Veneta | Free admission | venetadowntownfarmersmarket.com
South Valley Farmers Market
The South Valley Farmers Market in Cottage Grove is the perfect place to visit for local produce, baked goods, artisan crafted works, and more! You can also order in advance for pick up through their website.
Saturday | 11 am | 7th and Main St., Cottage Grove | Free admission | southvalleyfarmersmarket.square.site
Whiteaker Community Market
The Whiteaker Community Market is now open! Explore local art and produce at Scobert Park in the Whit. Check out their list of vendors and COVID-19 safety guidelines on their website.
Sunday | 11 am | Scobert Park, 4th Ave. and Blair St. | Free admission | whiteakercommunitymarket.com
Florence Farmers Market
The Florence Farmers Market opens for the season starting on Tuesday! Join them for fresh produce, pickles, hand pies, seafood, and more in Old Town Florence.
Tuesday | 3 pm | Bay and Kingwood Streets, Florence | Free admission | florencefarmersmarket.org
Spencer Creek Growers' Market
The Spencer Creek Growers' Market is celebrating their 12th year with a large collection of backyard and hobby farmers looking to sell their wares. Bring your shopping list and you'll be sure to cross fruits, vegetables, pasture-raised meats, eggs, plants, and more off of it!
Saturday | 10 am | Spencer Creek Grange, 86013 Lorane Hwy. | Free admission | spencercreekmarkets.org
Art Exhibits and Performances
BLM Grant Program exhibit
The Jordan Schnitzer Museum of Art has opened two exhibitions: The first is the world premiere of 56 Black Men, a photograph collection by Cephas Williams, who photographed black men, all wearing hoodies, but with their real occupation captioned underneath them, challenging racial stereotypes. The second is the Black Lives Matter Artist Grant Program Exhibition, featuring works by artists selected by a jury to each receive grants to continue their artwork in connection to the Black Lives Matter movement. Stay tuned for more information about this exhibition!
Art by Marco Elliott
56 Black Men | On display until October 10 | During regular museum hours | Museum admission prices | jsma.uoregon.edu
Black Lives Matter Artist Grant Program Exhibition | On display until November 21 | During regular museum hours | Museum admission prices | https://jsma.uoregon.edu
Other ongoing events
Sheild Bistro Happy Hour
Every Wednesday through Saturday, Sheild Bistro gives you the opportunity to enjoy $2 off tapas and $5 off house wine and taps at their Happy Hour! Stop by for a pre-dinner treat!
Wednesdays through Saturdays | 3 pm | Sheild Bistro, 298 Blair Blvd. | Free admission | sheildcatering.com
Broadway Streatery
Now through September 27, eat outdoors and in the road with the return of the Broadway Streatery program! East Broadway between Willamette and Olive Streets will be closed to traffic to give local restaurants expanded seating to accommodate for social distancing and welcome more customers. Come support local restauranteurs!
Now through September 27 | Ongoing | Broadway between Willamette and Olive Sts. | Food available for purchase | downtowneugene.com
Pfeiffer Burgers and Brews
Pfeiffer Winery is celebrating this week's Burgers and Blues night with live music by Riffle. Sip on a glass of wine, or buy a whole bottle and indulge in delicious burgers.
Fridays | 6 pm | Pfeiffer Winery, 25040 Jaeg Rd., Junction City | $5 admission | pfeifferwinery.com
Sunday Funday Bluegrass Concert series
Every Sunday, join Pfeiffer Winery for their summer Sunday Funday Bluegrass Concert series! Sip some stunning wine while swaying along to local bluegrass and folk bands.
Sundays | 1 pm | Pfeiffer Winery, 25040 Jaeg Rd., Junction City | $5 | pfeifferwinery.com
Trivia Night at Tap and Growler
Gather your friends and head over to Tap and Growler every Wednesday night to put your trivia skills to the test. Enjoy good food and drink while trying to outsmart the rest to claim the trivia champion title.
Wednesdays | 7 pm | Tap and Growler, 207 E 5th Ave. | tapandgrowler.com