Halloween is approaching, bringing some spooky events this weekend, like a haunted hike, live readings with Edgar Allen Poe, and the Coffin Races, among other great events.
Business Expo
Network with 1,500 professionals and 150 business booths at the 2019 Business Expo, hosted by the Eugene Chamber of Commerce. Learn about local businesses and services while taking in how these businesses and organizations are evolving in our community.
Thursday | 4 pm | Lane Events Center, 796 W 13th Ave | $15-$20 | eugenebusinessexpo.com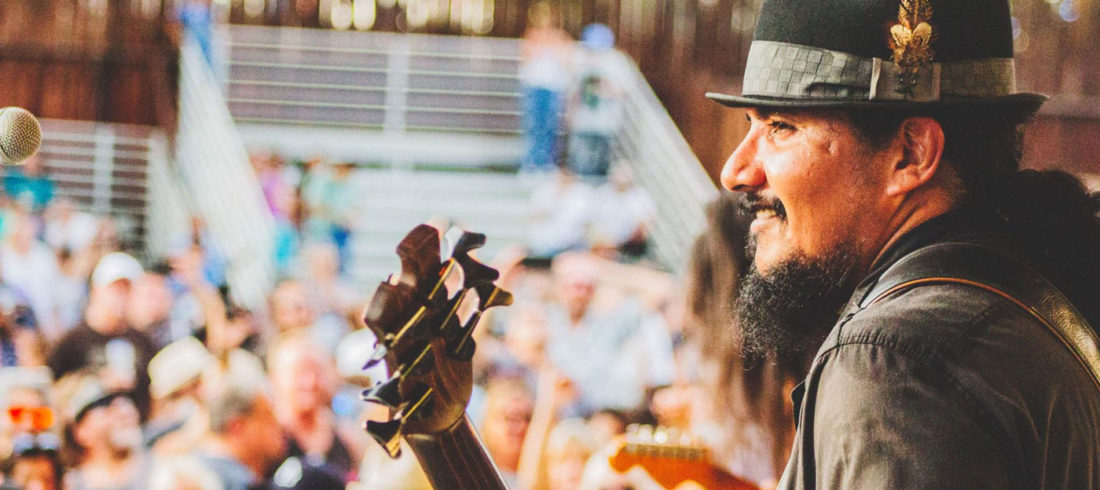 Los Lonely Boys
Performing what they call "Texican Rock n'Roll," Los Lonely Boys, comprise of three brothers, is coming to the Shedd this Thursday. Their music combines elements of rock, Texas blues, soul, country, and Tejano.
Thursday | 7:30 pm | The Shedd Institute, 868 High St. | 26.25-$43 | theshedd.org
Mahler's Titan
With Francesco Lecce-Chong at the conducting helm and Christina and Michelle Naughton on two different pianos, the Eugene Symphony will be performing Mahler's Titan this Thursday. Along with this classic, enjoy Matt Browne's Barnstorming Season and Mendelssohn's Concerto for Two Pianos and Orchestra.
Thursday | 7:30 pm | Hult Center, 1 Eugene Center | $28.50-$68 | eugenesymphony.org
Todd Snider with Ramblin' Jack Elliott
Todd Snider, a rock musician who recently made the switch to folk music, is coming to the Hult Center this Thursday, with special guest Ramblin' Jack Elliott. Inspired by Woody Guthrie, his new album, "Cash Cabin Sessions, Vol. 3," is also politically motivated. Come see his performance this Thursday.
Thursday | 8 pm | Hult Center, 1 Eugene Center | $28.50-$38 | hultcenter.org
Haunted Hike
On Friday, Nearby Nature is hosting their annual Haunted Hike. Go on a special evening hike along a lit trail through Alton Baker Park, visiting the natural night life and meeting seven different costumed night creatures along the way. There will also be crafts, games, treats, and face painting. Register on their website.
Friday | 5:30 pm | Alton Baker Park, 100 Day Island Rd. | $5 | nearbynature.org
Readings with Edgar Allan Poe
The infamous author, Edgar Allan Poe, is coming back from the dead to read at the Shelton McMurphey Johnson House. Enjoy this evening of gothic literature, perfect for the Halloween season. Buy your tickets in advance on their website.
Friday and Sunday | 7 pm | Shelton McMurphey Johnson House, 303 Willamette St. | $25 | smjhouse.org
It Can't Happen Here
Written by Sinclair Lewis and directed by Stanley Coleman, the Very Little Theatre is opening their presentation of It Can't Happen Here, on Friday. The cautionary tale of democracy versus fascism, the show will run until November 2.
Opening Friday through Nov. 2 | Thursdays, Fridays, and Saturdays, 7:30 pm; Sundays, 2 pm | Very Little Theatre, 2350 Hilyard St. | $17-$21 | thevlt.com
Coffin Races
The Coffin Races are returning for the second year, combining creativity, the competitive spirit, and a little bit of ghoulish fun. Participants will race down Skinner Butte in the hand-built, coffin-themed cars while onlookers can watch, visit the Pumpkins and Power Tools exhibit, dance, and enjoy local cider and beer and various food offerings.
Saturday | 11:30 pm | Skinner Butte, 3rd Ave. and Lincoln St. | Free admission | eugene-or.gov
Goin' with the Flo Vintage Trailer Rally
This weekend, Florence is hosting the second annual Goin' with the Flo Vintage Trailer Rally, which will be taking over the Port of Siuslaw Campground. Tour more than 50 rare vintage trailers, with the chance to meet the owners and visit vendors.
Saturday | 12 pm | Port of Siuslaw Campground, 100 Harbor St., Florence | florencechamber.com
Alesong and Friends: Harvest Season
Alesong Brewing and Blending is bringing together wine-grape-matured beers from Jolly Pumpkin, Holy Mountain, Birds Fly South, Deschutes, Logsdon, pFriem, and more for their harvest edition of Alesong and Friends. At the event, they will also be launching their two-part collaboration beer with Logsdon: Deux Fermes. Tickets include pours as well as bus transportation from the Hult Center to the tasting room and back.
Saturday | 4 pm | Alesong Brewing and Blending, 80848 Territorial Hwy. | alesongbrewing.com
Latinx Voices
Part of Fiesta Cultural, the Oregon Contemporary Theatre is hosting "Latinx Voices," a dance performance centered on cultural identity and social activism by Company Movimiento. The artistic director and choreographer, Cynthia Gutierrez-Garner, uses dance as a tool to promote cultural cognizance and contextualize American identities.
Saturday and Sunday | 7:30 pm | Oregon Contemporary Theatre, 194 W Broadway | $13-$18 | lanearts.org
Day of Play
Celebrate a Day of Play with the Eugene Civic Alliance. Your kids can test their skills in multiple sports at each activity station. While there, attend the Movement Festival where there will be dance, yoga, gymnastics, and the chance to be one of the first to see the new turf field at Civic Park.
Sunday | 1 pm | Civic Park, 2077 Willamette St. | $5 | eugenecivicalliance.org
Sustainable Landscape Program
The OSU Extension Service is hosting a Sustainable Landscape Seminar starting Wednesday. Learn about watering efficiently, mulch and compost, gardening for wildlife, stream-side gardening, yard pest control, placing the right plant in the right place, lawn care, storm water alternatives, and edible landscaping and vegetables.
Wednesday through Thursday | 9 am | OSU Extension Services, 996 Jefferson St. | $25 | extension.oregonstate.edu
Next week: Mount Pisgah Arboretum Mushroom Festival
Celebrate all things mycology at the Mount Pisgah Arboretum Mushroom Festival. There will be a huge mushroom exhibit, live music, hay rides along Meadow Road, a cider booth, nature walks, a kids' booth, the Fantastical Scarecrow Contest, talks, and food, plant, and craft vendors.
October 27 | 10 am | Mount Pisgah Arboretum, 34901 Frank Parrish Rd. | $10 suggested donation | mountpisgaharboretum.com