Attend outstanding live events, stock up on local food, learn more about herbs and much more at these events happening in Lane County this week.
Please attend in-person events responsibly, wear a mask, and follow all proper safety guidelines. Events are subject to change.
Submit your own event for consideration!
Paul Thorn
Paul Thorn has created an innovative and impressive career, pleasing crowds with his muscular brand of roots music – bluesy, rocking and thoroughly Southern American, yet also speaking universal truths.
Thursday | 7:30 pm | Hult Center, 1 Eugene Center | $33 | hultcenter.org 
Heartless Bastards 
Don't miss these indie rock legends playing along with Valley Queen at Sessions Music Hall. Formed in Ohio in 2003, they have slowly become a top act in the indie world known for putting on a great live show. 
Thursday | 9:00 pm | Sessions Music Hall, 44 E 7th Ave. | $23 | sessionsmusichall.com 
Liz Cooper
Visit Sessions for an early 7:30 pm show by Liz Cooper, a three-piece American rock band from Nashville, Tennessee. Stay for the Heartless Bastards show which starts shortly after at 9. 
Thursday | 7:30 pm | Sessions Music Hall, E 7th Ave. | $18 | sessionsmusichall.com 
Ehud Asherie 
The Shedd welcomes back the super versatile pianist Ehud Asherie, who will actually be presenting two different concerts on the same night. If you come to both, you will get a terrific overview of Harlem-birthed jazz piano. Harlem Stride starts at 7 pm. A dinner option will be available for purchase at 5:30 before the concert.  
Friday | 7:00 pm | Shedd Institute, 868 High St. | $28 | theshedd.org 
Hip Hop Nutcracker
The Nutcracker is a traditional celebration of love, family, and the magic of the holidays. This mashup brings that along with a contemporary dance spectacle with a DJ, a violinist, and MC Kurtis Blow, one of hip hop's founding fathers, who opens the show with a short set.
Friday | 7:30 pm | Hult Center, 1 Eugene Center | $45 | hultcenter.org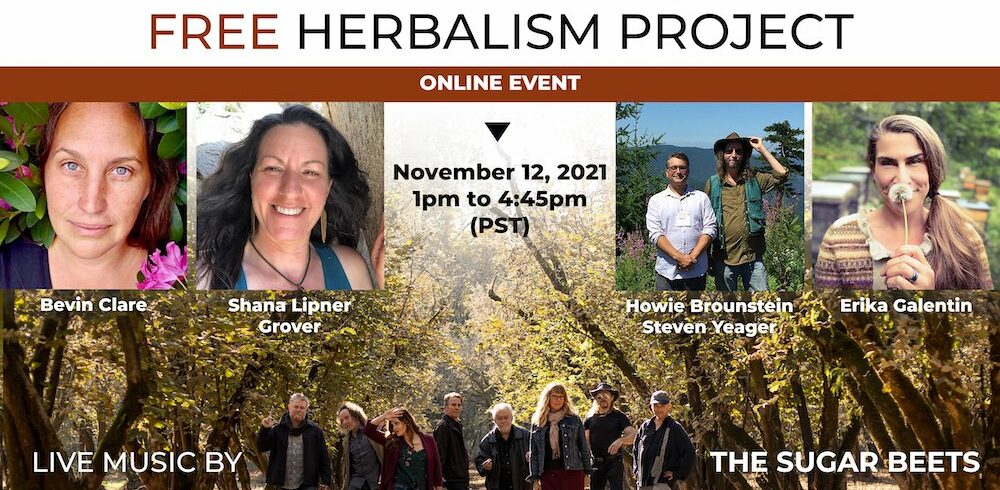 Free Herbalism Project 
Enjoy herbal talks and music. Speakers include Shana Lipner, Steven Yeager, Howie Brounstein, and Erika Galentin. With live music and special guest emcee, Bevin Clare. Sign up to save your spot and get the video recording emailed to you after the event. 
Friday | 1:00 – 4:45 pm | Virtual | Free | mountainroseherbs.com
Oregon Mozart Players: Old School
Oregon Mozart Players invites you to join them in welcoming Artistic Director Kelly Kuo and the group's orchestra back to the concert hall at their upcoming performance, Old School. The program will open with a rarely heard work by female composer and contemporary of Wolfgang Amadeus Mozart, Marianna Martines.The program also features the world premiere of "Kohola," or "whale" in Hawaiian, a work created by composer Stella Sung, accompanied by a multimedia presentation of whales by underwater partner photographer and filmmaker Annie Crawley. The program will conclude with a solo by Primrose International Viola Competition winner, violist Nokuthula Ngwenyama. Enjoy this wonderful evening of music and a unique multimedia world premiere!
Saturday | 7:30 pm | First Baptist Church, 3550 Fox Meadow Rd. | $36 | oregonmozartplayers.org 
Fill Your Pantry
The 11th annual Fill Your Pantry event allows you to stock up on locally grown grains, meats, produce and more. Buying and storing local crops is a tangible way you can support our small farms and ensure that you eat local food all winter. 
Sunday | 12:00 – 4:00 pm | Lane Events Center, 796 W. 13th Ave. | foodforlanecounty.org
Eugene Vocal Arts: A Garden of Bells
Featuring Canadian composer R. Murray Schafer's A Garden of Bells, this concert will soothe the senses with images and sounds of bells and gardens. 
Sunday | 2:30 pm | Hult Center, 1 Eugene Center | $15 | hultcenter.org
ONGOING EVENTS
Markets
Weekend Market
Every weekend, take in the new 5th Street Market Expansion or explore your old favorites while perusing pop up shops and artisans. Grab some food, enjoy displays, and learn about the new businesses in the Market Alley.
Saturday and Sunday | 11 am | 5th Street Public Market, 296 E 5th Ave. | Free admission | 5stmarket.com
Saturday Market
The Eugene Saturday Market is now open in their usual spot in the Park Blocks. Peruse local artisans and craftspeople, pick up lunch from the international food court, and see live music. It's a Eugene institution!
Saturday | 10 am | 8th Ave. and Oak St. | Free admission | eugenesaturdaymarket.org
South Valley Farmers Market
The South Valley Farmers Market in Cottage Grove is the perfect place to visit for local produce, baked goods, artisan crafted works, and more! You can also order in advance for pick up through their website.
Saturday | 11 am | 7th and Main St., Cottage Grove | Free admission | southvalleyfarmersmarket.square.site
Other ongoing events
Sheild Bistro Happy Hour
Every Wednesday through Saturday, Sheild Bistro gives you the opportunity to enjoy $2 off tapas and $5 off house wine and taps at their Happy Hour! Stop by for a pre-dinner treat!
Wednesdays through Saturdays | 3 pm | Sheild Bistro, 298 Blair Blvd. | Free admission | sheildcatering.com
Diá de los Muertos at Maude Kerns Art Center
The Maude Kerns Art Center will be celebrating their 28th annual Diá de los Muertos exhibit starting this Friday. The exhibit consists of beautiful artwork from local artists, community altars, and a special gift shop. The Mexican Day of the Dead celebration acknowledges the link between the communities of the living and the dead.
October 15 – November 5 | Maude Kerns Art Center, 1910 E 15th Ave. | mkartcenter.org
Broadway Streatery
Now through September 27, eat outdoors and in the road with the return of the Broadway Streatery program! East Broadway between Willamette and Olive Streets will be closed to traffic to give local restaurants expanded seating to accommodate for social distancing and welcome more customers. Come support local restauranteurs!
Now through September 27 | Ongoing | Broadway between Willamette and Olive Sts. | Food available for purchase | downtowneugene.com
Trivia Night at Tap and Growler
Gather your friends and head over to Tap and Growler every Wednesday night to put your trivia skills to the test. Enjoy good food and drink while trying to outsmart the rest to claim the trivia champion title.
Wednesdays | 7 pm | Tap and Growler, 207 E 5th Ave. | tapandgrowler.com