Explore our vast local arts scene, run a 5K to support a good cause, and celebrate the mother figures in your life—all these events and more happening around Lane County this week.
Please attend in-person events responsibly, wear a mask, and follow all proper safety guidelines. Events are subject to change.
Submit your own event for consideration!
Symphony Soundwaves V
The Eugene Symphony is premiering Symphony Soundwaves V, available through their streaming platform. Join them for performances of Hildur Guðnadóttir's "From the Other Place," Bernard Herrmann's "Suite from Psycho," John Williams' "Air and Simple Gifts," and Antonín Dvořák's "Serenade for Strings, Op. 22."
Thursday | 7 pm | Virtual | Free | eugenesymphony.org
Arts & Culture Roundtables
The Lane Arts Council is hosting their first of a series of Arts and Culture Roundtables on Thursday, facilitated by Ritu Roy and Eric Braman. They will guide the conversations around better understanding and acknowledging the inequalities that exist in our arts community. Register in advance. The next Roundtable will be on May 20.
Thursday | 5 pm | Virtual | Free |lanearts.org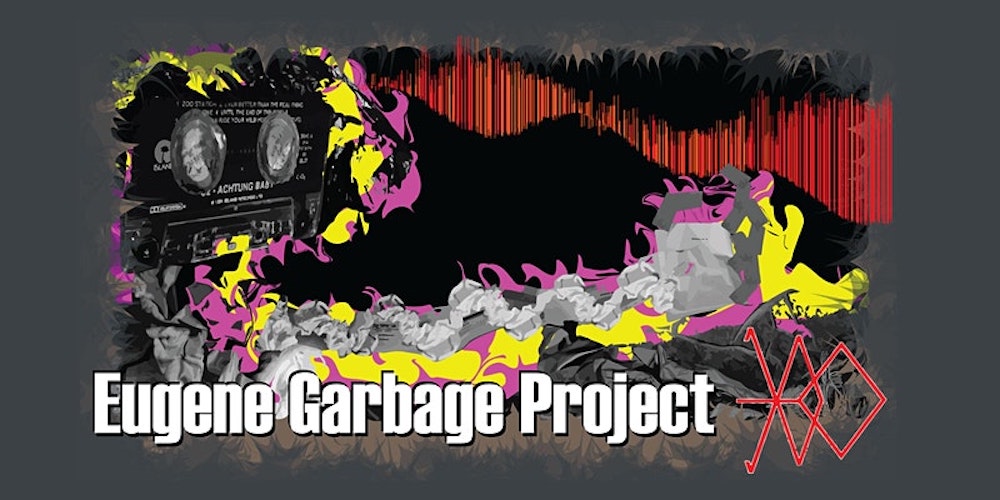 Eugene Garbage Project
Eugene Difficult Music Ensemble's first major undertaking, Eugene Garbage Project, is hosting their final concert at Eugene Contemporary Art's space. The project is an experimental sound/music multimedia work promoting environmental awareness, made with trash collected at public art events.
Friday | 7 pm | Virtual | Free | edmensemble.org
First Friday ArtWeek
This month's First Friday ArtWeek kicks off this Friday with exhibits opening and special performances happening all over town all week. Meet artist Satysha Willowsong at Bennett Vineyards and Wine Company, check out the "Art for Change" Mural Exhibit at Friendly Street Market, and stop by ECO Sleep Solutions, the Gordon Lofts, Karin Clarke Gallery, and many others for their current exhibits. See a full list of offerings on the Lane Arts Council website.
Friday through May 12 | Ongoing | Multiple Locations | Free admission | lanearts.org
Willamalane Virtual 5K Your Way
Willamalane is hosting the Virtual 5K Your Way, benefitting McKenzie River Trust, starting Friday. Race your way, be it running, walking, or rolling anywhere you want. Sign up on their website.
Starting Friday | Ongoing | Wherever you get out | $5 | willamalane.org
New Zone Gallery Opening Reception
New Zone Gallery is celebrating the opening of their new location with a reception on Friday! Join them for local art, music by Chico Schwall, and food and drink by Manifest Beer Company and Sundance Cellars.
Friday | 5:30 pm | New Zone Gallery, 110 E 11th Ave. | Free admission | newzonegallery.org
Mother's Day
Sunday is Mother's Day! Don't forget to celebrate the mother figure in your life (or yourself if you're a mother figure!) with love and appreciation!
Florence Farmers Market opens
The Florence Farmers Market opens for the season starting on Tuesday! Join them for fresh produce, pickles, hand pies, seafood, and more in Old Town Florence.
Tuesday | 3 pm | Bay and Kingwood Streets, Florence | Free admission | florencefarmersmarket.org
ONGOING EVENTS
Markets
Weekend Market
Every weekend, take in the new 5th Street Market Expansion or explore your old favorites while perusing pop up shops and artisans. Grab some food, enjoy displays, and learn about the new businesses in the Market Alley.
Saturday and Sunday | 11 am | 5th Street Public Market, 296 E 5th Ave. | Free admission | 5stmarket.com
Lane County Farmers Market
The Lane County Farmers Market is now open in their new location on Saturdays and their old location on Tuesdays! Join them to shop local and fresh! Check their "In Season" page to see what will be available on your shopping list (or expect to be surprised and inspired).
Saturday, 9 am, 5th Ave. between High and Oak Sts. | Tuesday, 10 am , 8th Ave. and Oak St. | Free admission | lanecountyfarmersmarket.org
Saturday Market
The Eugene Saturday Market is now open in their usual spot in the Park Blocks. Peruse local artisans and craftspeople, pick up lunch from the international food court, and see live music. It's a Eugene institution!
Saturday | 10 am | 8th Ave. and Oak St. | Free admission | eugenesaturdaymarket.org
Veneta Downtown Farmers Market
The Veneta Downtown Farmers Market is now open for a season celebrating local farmers and craftspeople. Check out their website for a full list of farmers, vendors, and artisans.
Saturday | 10 am | 3rd Ave. and Broadway, Veneta | Free admission | venetadowntownfarmersmarket.com
South Valley Farmers Market
The South Valley Farmers Market in Cottage Grove is the perfect place to visit for local produce, baked goods, artisan crafted works, and more! You can also order in advance for pick up through their website.
Saturday | 11 am | 7th and Main St., Cottage Grove | Free admission | southvalleyfarmersmarket.square.site
Whiteaker Community Market
The Whiteaker Community Market is now open! Explore local art and produce at Scobert Park in the Whit. Check out their list of vendors and COVID-19 safety guidelines on their website.
Sunday | 11 am | Scobert Park, 4th Ave. and Blair St. | Free admission | whiteakercommunitymarket.com
Art Exhibits
Mark Clarke: Discoveries
Karin Clarke Gallery is hosting "Mark Clarke: Discoveries," featuring works by the owner's father that have only recently been discovered, including coastal works, imaginative pieces, and more. On display through May 29.
Now through May 29 | Usual gallery hours | Karin Clarke Gallery, 760 Willamette St. | Free admission | karinclarkegallery.com
14th annual NewArt Northwest Kids exhibition
The Jordan Schnitzer Museum of Art is hosting their annual NewArt Northwest Kids exhibition, displaying the works of K-12 students in the museum's Education Corridor Galleries. Following the theme of "Art, Hope, and Resilience," students were encouraged to share their own stories through words and images.
Now through June 14 | Open during normal museum hours | Jordan Schnitzer Museum of Art, 1430 Johnson Ln. | See website for admission prices | jsma.uoregon.edu
Gigi Lassan
Florence-based artist Gigi Lassan's acrylic abstract paintings and "Avec Le Temps" jewelry collection are currently on display at the Florence Area Chamber of Commerce visitor center, now through June 1, on loan from The Studios at Jayne Smoley Design. Her paintings are often inspired by impressionists like Sam Francis, Jackson Pollock, Kupka, and Zao Wou-Ki, among others.
Now through June 1 | Ongoing | Florence Area Chamber of Commerce Visitor Center, 290 Hwy-101, Florence | Free | facebook.com/gislenegigilassan
The Vanishing West
White Lotus Gallery is opening The Vanishing West: Photographs by Rich Bergeman, starting Friday. The exhibit features photographs depicting "what's been left behind" around the Pacific Northwest. His works will be on display until June 12.
Now through June 12 | During usual gallery hours | White Lotus Gallery, 767 Willamette St. | Free admission | wlotus.com
Streaming
She Says
Catch Oregon Mozart Players' virtual performance of "She Says," featuring "Starburst" by Montgomery, "Violin Concerto in C Major" by Hadyn, and "String Quartet No. 1 in G Minor, Op. 14" by Mayer. Now you can watch the performance any time you like through their website until May 10. Last chance!
Ongoing until May 10 | Virtual | Suggest donation: $25 | oregonmozartplayers.org
Other ongoing events
Choose Your Own Fitness Adventure: Oregon Edition
The YMCA is encouraging you to be inspired by the stunning nature around us and stick to a six-month fitness challenge along the way! With challenges like swimming the length of the Willamette River (40 miles) and biking the length of the Oregon Timber Trail (670 miles), you'll feel like you've taken on some of our region's favorite landmarks. Register on their website!
Now through September 12 | Eugene Family YMCA, 2055 Patterson St., and around town | $40-$50 | eugeneymca.org
Sheild Bistro Happy Hour
Every Wednesday through Saturday, Sheild Bistro gives you the opportunity to enjoy $2 off tapas and $5 off house wine and taps at their Happy Hour! Stop by for a pre-dinner treat!
Wednesdays through Saturdays | 3 pm | Sheild Bistro, 298 Blair Blvd. | Free admission | sheildcatering.com