The Willamette Valley is at the center with the many area-focused festivals, activities, and celebrations happening this weekend. Combine chili, homemade cheese, blackberries, and BBQ this weekend with many opportunities to see live music and enjoy summer.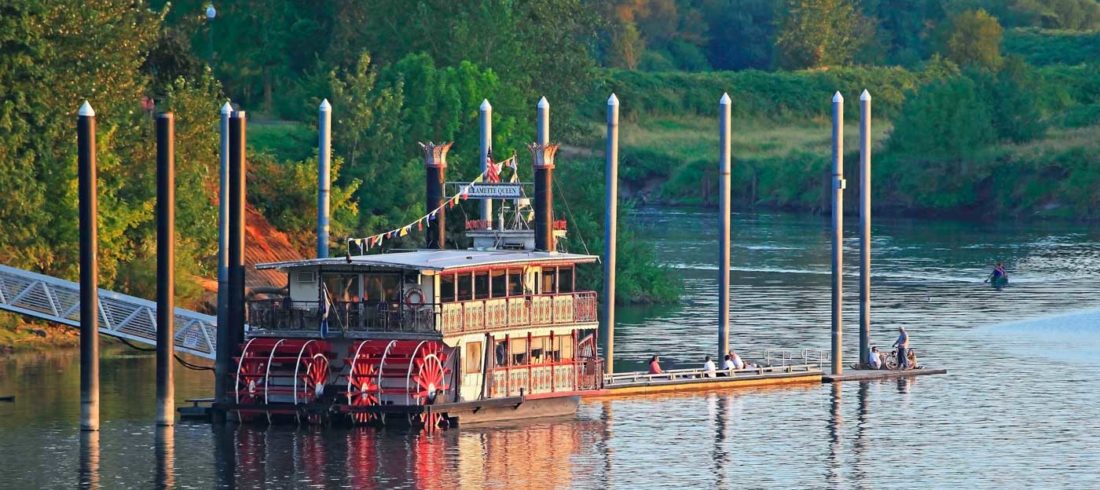 SenateAires Chorus for Harmony on the Water Cruise
Ride the Willamette Queen Sternwheeler in Salem while enjoying performances from the SenateAires a capella chorus, historical storytelling, and a catered dinner. This is their first of six in this "Harmony on the Water" cruise series. Get your tickets online.
Thursday | 6:30 pm | Willamette Queen Sternwheeler, Wallace Marine Park Dock, 200 Glen Creek Rd., Salem | Book tickets for prices | willamettequeen.com
Florence 125 Year Block Park
Celebrating 125 years, the City of Florence is hosting a Block Party in Old Town! Join them for live music, booths from local organizations, a photo booth, activities for the kids, and an excuse to visit the local shops and restaurants!
Friday | 5:30 pm | Old Town, Florence | Free admission | ci.florence.or.us
Cottage Grove ArtWalk
Take in the arts scene in Cottage Grove at their ArtWalk this Friday. The evening will feature four different locations, each with a different artist. At Bookmine (702 E Main St.), see harpist Mary Grace and authors James Burke and Tom Romano. At The Crafty Mercantile (517 E Main St.), see Fyona Rose's unique gemstone jewelry. See beaded bracelets by Jeannie Stone and wood sculptures by Tyler Stone at Apple Pie Antiques (811 E Main St.). And see acrylic works by Sarah Bast at Kalapuya Books (637 E Main St.).
Friday | 6 pm | Main St., Cottage Grove | Free | visitcottagegrove.com
Blackberry Jam Festival
Celebrate all things blackberry and local at the Lowell Blackberry Jam Festival this weekend. Join them for artisans booths, live music, fun activities for all ages, and the annual Quilt Show. There will also be a fishing derby and a car show.
Friday-Sunday | See website for event times | Rolling Rock Park, 100 E North Store Dr., Lowell | Free admission | blackberryjamfestival.com
The 6th Annual Newberry Event Music and Art Festival to Defeat MS
Help raise funds to combat MS while enjoying a three-day festival at the foot of the Newberry National Volcanic Monument. Fun for the whole family, this festival features live music from all genres, craft beer and wine, artisan booths, and delicious food options. There's also the opportunity to camp onsite. See their website for the music lineup and a full list of activities.
Friday-Sunday | All day | DiamondStone, 16693 Sprague Loop, La Pine | $20-$175 | newberryevent.com
McKenzie River Trust Whitewater Rafting Trip
McKenzie River Trust and River Trail Outfitters will be leading a guided whitewater rafting trip this weekend. Explore the river starting at Forest Glen County Boat Landing with class II and class III rapids all the way to Vida. Don't forget to pack your lunch! Register online.
Saturday | 10 am | Forest Glen County Boat Landing, OR 126, Blue River | $50 | mckenzieriver.org
Suburban Homecraft: Cheese making SMJ House
Learn how to turn cultured milk into cheese the old-fashioned way as part of Shelton McMurphey Johnson House's Suburban Homecraft series. They'll also teach you about different cultures and forms from cream cheese to feta. Secure your spot online.
Saturday | 10 am | Shelton McMurphey Johnson House, 303 Willamette St. | $25 | smjhouse.org
Main Street Chili Cook Off
Enter your chili to compete against your friends and neighbors or cast your vote for the best at the annual Main Street Chili Cook Off in Cottage Grove. Participants will be decorating their booths to tempt voters, who get to choose their favorite with purchase of a voting kit (which includes three, one-use-only tasting cups, one voting ticket, a spoon, and a napkin). Come taste some yummy chili while enjoying music and other fun activities!
Saturday | 11 am | Main St., Downtown Cottage Grove | Free admission, voting kit requires purchase | business.cgchamber.com
WOW Hall Rummage Sale
Hosted by the Community Center for Performing Arts, head on down to the WOW Hall this weekend for a rummage sale. While you search for hidden gems amongst their collection of t-shirts, records, tapes, CDs, DVDs, and other assorted items, enjoy live music and a beer garden. Volunteers needed (with benefits for those who help).
Saturday and Sunday | 10 am | WOW Hall, 291 W 8th Ave. | Free admission | wowhall.org
63rd Annual Fern Ridge Beef Pit BBQ
Head to Fern Ridge for their annual Beef Pit BBQ this Sunday! Join them for Bingo, silent and live auctions, a car show, games, live music from Coupe-deVille, and, of course, delicious BBQ, served with "secret sauce."
Sunday | 12 pm | St. Catherine of Siena Catholic Church, 25181 E Broadway, Veneta | Free admission, $7-$15 for meal | stcveneta.com
Eugene Sunday Streets and EUG Parade
Help promote healthy and active living during the annual Eugene Sunday Streets! Broadway between Jackson Street and Pearl Street will be closed most of the day for the EUG Parade at 10 am and an opportunity to explore Downtown on bike or foot without traffic. There will be nonprofit and community organization booths, activities for all ages, and live performances. See their website for a map and a full list of the fun!
Sunday | 12 pm (EUG Parade at 10 am) | Broadway, Downtown Eugene | Free admission | eugene-or.gov