Celebrate the arts this week with live music, benefit concerts, opportunities to buy works by local artists, and new additions to our walls.
Lane County Fair
The Lane County Fair is back, with all the charm, carnival rides, animal exhibits, concerts, and more you'll love. Buy your tickets in advance (including ride and concert tickets) or at the gate! Don't forget your sunscreen!
Wednesday through Sunday | 11 am | Lane County Fair Grounds, 796 W 13th Ave. | $6-$9 for admission, additional costs for concerts and rides | atthefair.com
Whiteaker Last Friday Art Walk Benefit Concert and Pop Up Market
Head to the Whit for live music, local vendors, and a silent auction. Hosted by Vanilla Jill's Café and Equiano Coffee, all proceeds from the event will benefit the Whiteaker Community Market Music Program.
Friday | 5 pm | Vanilla Jill's Café, 298 Blair Blvd. | Free admission | facebook.com/events
Eugene Symphony in the Park
See the Eugene Symphony at their annual Symphony in the Park concert at the Cuthbert Amphitheater. They'll be playing favorites all night, with their Instrument Petting Zoo to start the evening. All attendees to this family-friendly evening will need a ticket, but tickets are free. Contact the Hult Center Ticket Office to secure yours.
Friday | 8 pm | Cuthbert Amphitheater 2300 Leo Harris Pkwy. | Free | eugenesymphony.org
Homebuilders Association of Lane County 2019 Tour of Homes
Let the homes in the 34th Annual Tour of Homes inspire you starting Friday. The Tour will continue through the weekend and then the next weekend as well. This showcase of local builders is one you won't want to miss.
Friday through Sunday, Aug. 2-4 | Fridays, 3 pm; Saturday and Sunday, 12 pm | See website for map | Free admission | hbalanecounty.org
Art in the Country
Nearly 50 art booths and authors will be showcasing their works at the second annual Art in the Country Festival in Veneta. Come see live music, author readings, short plays, a kids' creative zone, food, wine, and much more, all to celebrate art.
Saturday and Sunday | 10 am | Applegate Regional Theatre, 87230 Central Rd. | Free | art-inc.org
Winetasia
Silvan Ridge is hosting Winetastia on Saturday, benefitting Kids FIRST. Join them for bites by NINE paired with Silvan Ridge wines, live music, and dancing.
Saturday | 6 pm | Silvan Ridge, 27012 Briggs Hill Rd. | $75 | 21+ |  silvanridge.com
Dark Sky Star Party at Dexter
Dexter is the perfect place to escape the lights of the city and really get a good look at the stars. See the planets in our solar system, galaxies, and other astronomical phenomenon starting at dusk. No white lights allowed. Check in with the Eugene Astronomical Society for any cancellations due to weather.
Saturday | 9 pm | West End of Dexter Reservoir, Lowell | Free | eugeneastro.org
20×21 Eugene Walls
This Saturday kicks off this year's 20×21 Eugene Walls celebration, which is welcoming five new muralists to take over a local wall. The artists include Fintain Magee (who you can watch painting on Saturday starting at 6 pm) from Australia, Sidney Waerts from the Netherlands, Kari Johnson from the US, Martha Cooper from the US, and Adele Renault from Belgium. See website for watch party times and keep an eye out for the new murals around town!
Saturday through Aug. 2 | All day | Throughout Eugene | Free | eugene-or.gov
Cook the Book Cooking Class: Bestia with Joe Randazzo
Specialty food buyer and demo chef, Joe Randazzo, will be preparing a meal from Bestia by Ori Menashe and Genevieve Gergis. Learn the recipe and discuss the classic cookbook, which focuses on rustic Italian cuisine. Reserve your seat now before it sells out!
Wednesday | 5:30 pm | Provisions Demo Kitchen, 296 E 5th Ave. | $55 | provisionsmarkethall.com
OFAM: Might as Well Be Swing
With jazz rhythm maestro Chuck Redd at the helm, the annual Oregon Festival of American Music (OFAM) at the Shedd kicks off this week, celebrating Swing music and its significance to American music. Join them for concerts, films, talks, sing-alongs, and more, all encompassing the musicians and composers of that era. See their website for a full list of events.
Wednesday through Aug. 3 | See website for event times | The Shedd, 868 High St. | See website for tickets | theshedd.org
Wicked at the Hult
Wicked is back at the Hult, telling the story of the Witches of Oz before Dorothy stopped by. Come for the amazing music, costumes, sets, and to learn the true history between the Good and Wicked Witches.
Opens Wednesday through Aug. 11 | See website for times | Hult Center, 1 Eugene Center | $39-$172.25 | hultcenter.org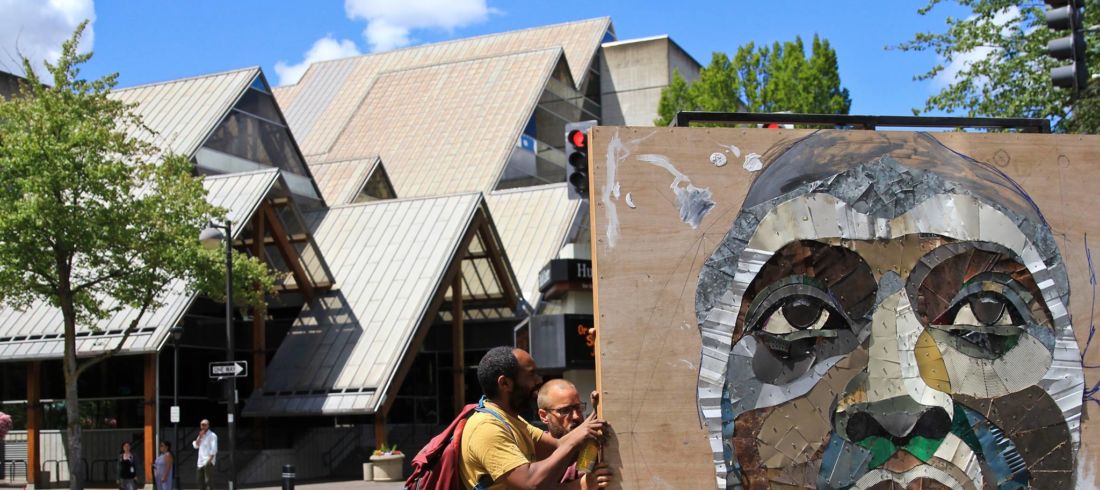 Next week: Visual Arts Week kick off
Next Friday's First Friday ArtWalk kicks off Visual Arts Week, celebrating all things art in Eugene. See the Mayor's Art Show, BRIDGE Exhibitions, tours of 20×21 murals, artist talks, workshops, and much more. See the website for a full list of events.
Friday to Friday | See website for event times and locations | Some workshops require payment |  eugene-or.gov